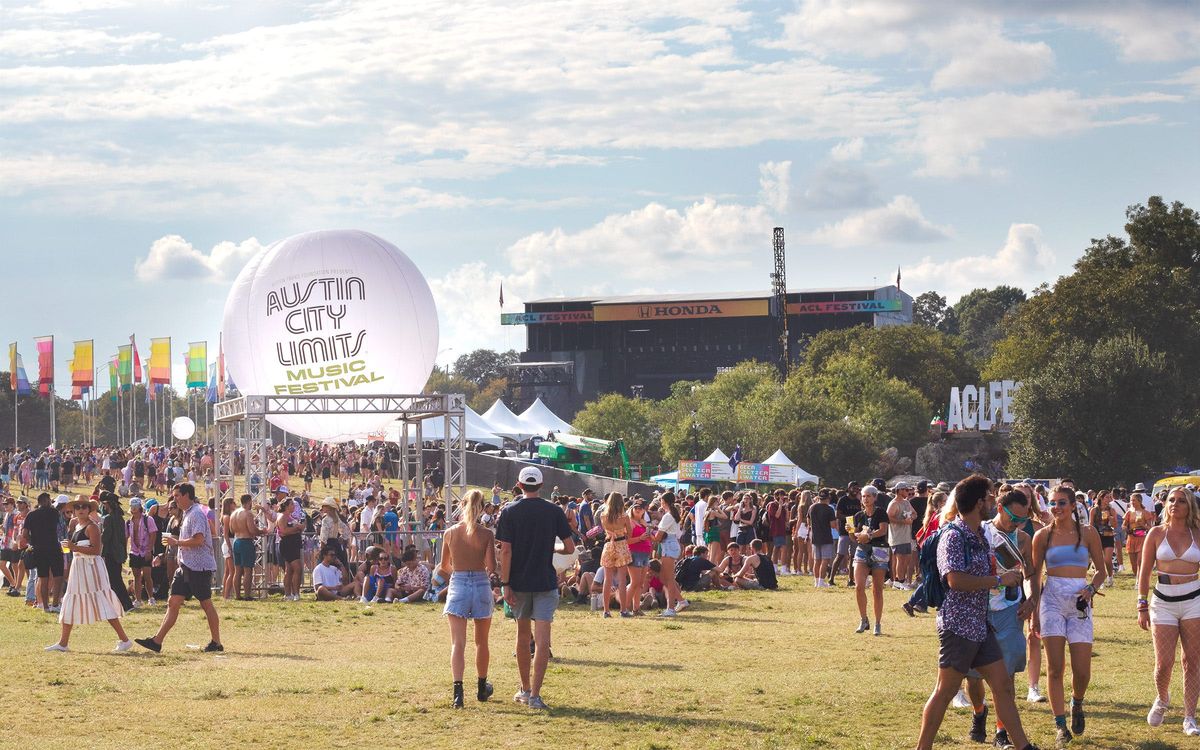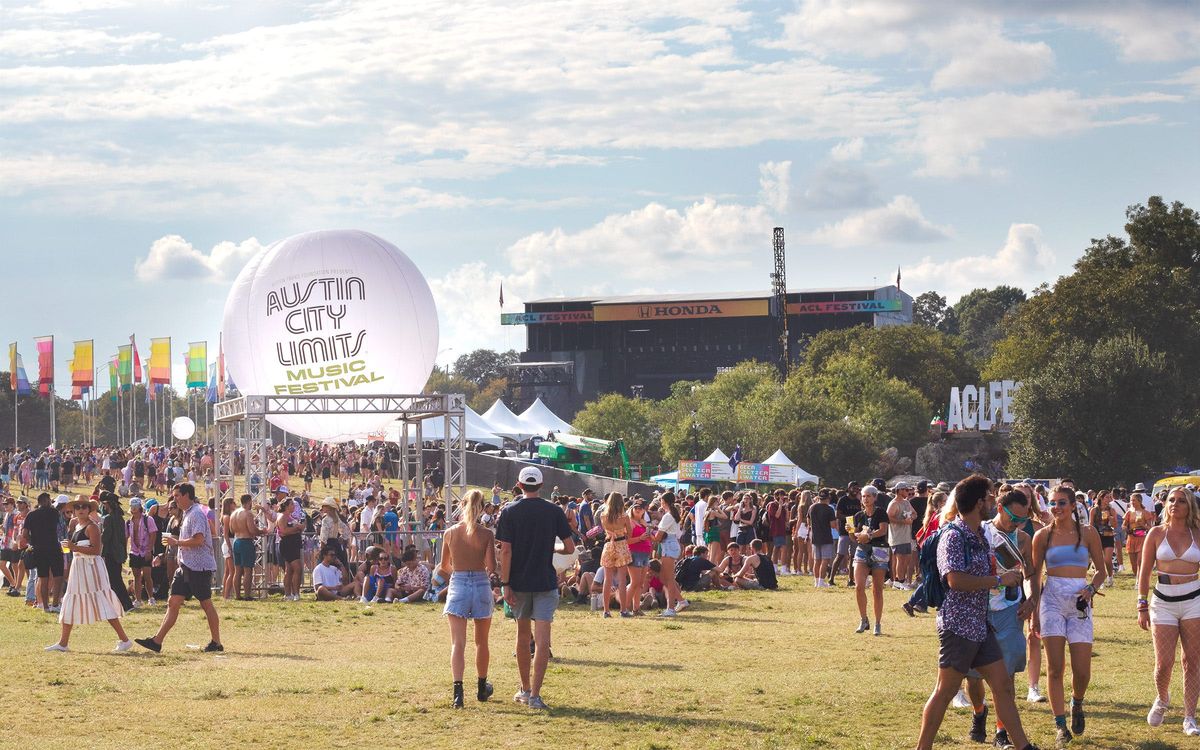 What Is ACL Festival
Published: November 6, 2023
Discover all you need to know about the ACL Festival, the ultimate festival experience featuring music, food, art, and more. Get ready to immerse yourself in the electrifying atmosphere of this incredible festival.
(Many of the links in this article redirect to a specific reviewed product. Your purchase of these products through affiliate links helps to generate commission for AudioLover.com, at no extra cost. Learn more)
Introduction
Welcome to the world of music, art, and celebration at the ACL Festival! This iconic event has become a staple in the festival scene, offering a unique and unforgettable experience for music lovers from all walks of life. Whether you're a seasoned festival-goer or a first-timer, ACL Festival is sure to leave you captivated by its incredible lineup, vibrant atmosphere, and stunning location.
ACL Festival, short for Austin City Limits Music Festival, takes place annually in Austin, Texas. Founded in 2002, it has grown in popularity and has become one of the most highly anticipated festivals in the United States. With its diverse range of musical genres, incredible performances, and plethora of activities, ACL Festival has something for everyone.
Over the years, the festival has evolved into a cherished tradition that brings together renowned artists, emerging talents, and enthusiastic fans. It is a celebration of music that transcends genres, uniting people from different backgrounds and creating lifelong memories.
As you step into Zilker Park, the sprawling venue that hosts ACL Festival, you will be greeted by a vibrant and electric atmosphere. The park's picturesque setting, nestled in the heart of downtown Austin, provides the perfect backdrop for the three-day extravaganza.
ACL Festival is not just about the music; it is an immersive experience that embraces the rich culture and creative spirit of Austin. From interactive art installations to delicious food vendors and boutique marketplaces, there is no shortage of activities to explore between sets.
Whether you find yourself dancing in front of the main stage, discovering new artists at smaller venues, or indulging in culinary delights, ACL Festival offers a dynamic and eclectic experience that will leave you yearning for more.
In this article, we will delve into the rich history of ACL Festival, explore its location and venue, highlight some of the standout performances, discuss ticket options, and provide valuable tips for making the most of your time at the festival. So, get ready to immerse yourself in the world of music and revelry at ACL Festival!
History of ACL Festival
The history of ACL Festival traces back to 2002 when Austin City Limits, the longest-running music program on American television, decided to celebrate its 30th anniversary with a music festival. Inspired by the success of Austin's South by Southwest (SXSW) festival, ACL Festival aimed to showcase not only the renowned artists who had graced the Austin City Limits stage but also emerging and local talents.
The inaugural ACL Festival took place at Zilker Park in Austin, Texas, and featured an impressive lineup that included Wilco, Dave Matthews Band, and Lucinda Williams, among others. The response was overwhelming, with over 75,000 music enthusiasts flocking to the festival.
Since its inception, ACL Festival has continued to grow and evolve. It expanded to a two-weekend format in 2013, allowing even more music lovers to experience the magic of the festival. Each year, the festival organizers curate a diverse lineup that spans various genres, ensuring there is something for everyone's musical tastes.
ACL Festival has featured some legendary performances over the years. From iconic acts like Paul McCartney, Radiohead, and Pearl Jam to rising stars such as Lizzo, Billie Eilish, and Tame Impala, the festival has become a platform for artists to captivate audiences and make their mark on the music industry.
In addition to its musical offerings, ACL Festival has actively embraced the Austin community and its vibrant culture. The festival serves as a showcase for local vendors, artisans, and food trucks, providing a platform for the city's thriving creative scene. This commitment to supporting local businesses and artists has helped ACL Festival foster a sense of community and create a unique festival experience.
Throughout its history, ACL Festival has endeavored to give back to the Austin community. The festival has partnered with various charitable organizations, including the Austin Parks Foundation, and has implemented sustainability initiatives to minimize its environmental impact. From composting and recycling to offering water bottle refill stations, ACL Festival is committed to creating a more sustainable and eco-friendly event.
As ACL Festival celebrates its continued success and popularity, it remains true to its roots and continues to provide music enthusiasts with an unparalleled festival experience. With each passing year, the festival showcases an impressive lineup, hosts memorable performances, and offers a platform for both established and emerging artists to shine.
Location and Venue
Austin City Limits Festival takes place annually at the beautiful Zilker Park, located in the heart of Austin, Texas. This sprawling 350-acre park provides the perfect setting for a three-day music extravaganza. With its lush green spaces, tranquil waters, and stunning skyline views, Zilker Park offers a picturesque backdrop for ACL Festival.
Zilker Park is located just south of Lady Bird Lake, and its central location makes it easily accessible for both locals and out-of-town visitors. The park is conveniently located near downtown Austin, making it effortless to explore the city's vibrant music scene, eclectic dining options, and thriving arts culture.
As you step onto the festival grounds, you'll find yourself surrounded by multiple stages, each offering a unique and immersive experience. The main stage, aptly named the "American Express Stage," hosts the headlining acts and provides a massive space for festival-goers to gather and enjoy the performances.
In addition to the main stage, you'll discover other stages throughout the park, each with its own distinct ambiance. The "Honda Stage" showcases up-and-coming artists, while the "Miller Lite Stage" offers a more intimate setting for acoustic performances.
Aside from the stages, Zilker Park also features designated areas for food vendors, art installations, and interactive experiences. Whether you're looking for a quick bite to eat, a refreshing beverage, or a place to relax and soak in the festival atmosphere, you'll find it within the park.
One of the unique aspects of ACL Festival is its emphasis on sustainability. The festival strives to minimize its environmental impact by implementing eco-friendly practices throughout the event. From recycling and composting stations to reusable water bottle refill stations, ACL Festival is committed to creating a more sustainable festival experience.
Another advantage of Zilker Park's location is its close proximity to nearby amenities. If you need a break from the music, you can take a short walk to Lady Bird Lake, where you can rent a kayak or paddleboard and enjoy a peaceful excursion on the water. Additionally, there are several hotels, restaurants, and shops within walking distance of the festival grounds, providing convenience and easy access for festival-goers.
Overall, Zilker Park provides the ideal backdrop for ACL Festival, with its natural beauty, ample space, and central location. The combination of scenic surroundings, dynamic stage setups, and thoughtful planning makes ACL Festival a truly unforgettable experience.
Lineup and Performances
The lineup at ACL Festival is always highly anticipated and packed with an impressive array of artists from various genres. From chart-topping superstars to emerging talents, the festival offers a diverse range of performances that cater to every musical taste.
Each year, ACL Festival showcases both established and up-and-coming artists, providing a platform for them to captivate audiences and create unforgettable moments. The festival prides itself on its ability to curate a lineup that appeals to a wide range of music enthusiasts.
The headliners at ACL Festival have included some of the biggest names in the music industry. From rock legends like The Rolling Stones and Foo Fighters to pop icons such as Beyoncé and Taylor Swift, the festival has graced its stages with unforgettable performances that have left audiences in awe.
In addition to the headliners, ACL Festival features a multitude of artists across various genres, including alternative, indie, hip-hop, electronic, and more. The festival often showcases emerging talents who are on the cusp of stardom, offering attendees the opportunity to discover new music and artists.
One of the unique aspects of ACL Festival is the diversity of its stages. While the main headlining acts perform on the American Express Stage, there are multiple other stages throughout the festival grounds where artists of different genres and popularity levels can be found.
These smaller stages provide a more intimate setting for performances, allowing festival-goers to get up close and personal with their favorite artists. It's not uncommon to stumble upon a hidden gem on one of these stages, discovering a new favorite artist in the process.
ACL Festival also offers a mix of day and night performances, creating an immersive experience that evolves as the day progresses. Whether it's dancing under the stars to a high-energy electronic DJ set or enjoying a soulful acoustic performance in the afternoon sun, the festival's schedule is designed to cater to different moods and musical preferences.
Besides the live performances, ACL Festival often hosts special collaborations and surprise guest appearances, adding an element of excitement and unpredictability to the lineup. These unexpected moments create memories that festival-goers cherish for years to come.
Overall, the lineup and performances at ACL Festival are diverse, dynamic, and carefully curated. Whether you're a fan of rock, pop, hip-hop, or any other genre, you can be sure to find an artist or band that resonates with you and delivers an unforgettable live performance.
Tickets and Pricing
Attending ACL Festival is a dream for many music lovers, and securing tickets is the first step in making that dream a reality. The festival offers several ticket options to accommodate different budgets and preferences.
General Admission tickets are the most common and affordable option. They provide access to all the stages, food vendors, art installations, and activities throughout the festival grounds. General Admission tickets are usually available for purchase as both single-day passes and three-day passes, allowing attendees to customize their festival experience.
If you're looking for an elevated experience, VIP tickets are available for purchase. These tickets provide additional perks such as exclusive viewing areas, private lounges, expedited entry, and premium restroom facilities. VIP ticket holders can enjoy a more luxurious and comfortable festival experience.
In addition to VIP tickets, ACL Festival also offers Platinum tickets for those seeking the ultimate festival experience. Platinum ticket holders enjoy all the benefits of VIP tickets, as well as additional perks such as backstage access, artist meet and greets, gourmet meals, and complimentary drinks. Platinum tickets provide a truly exclusive and unforgettable experience.
It's important to note that ACL Festival tickets typically sell out quickly, especially for popular headlining acts. It's recommended to purchase tickets as soon as they become available to secure your spot at the festival.
When it comes to pricing, ticket prices for ACL Festival can vary depending on factors such as the ticket type, the time of purchase, and any additional add-ons such as parking passes or locker rentals. It's advisable to check the official ACL Festival website for the most up-to-date ticket prices and availability.
For those attending ACL Festival on a tighter budget, the festival occasionally offers early-bird ticket sales or discounted tickets for students or military personnel. These special promotions provide an opportunity to enjoy the festival at a lower cost.
It's also worth noting that ACL Festival has a strict no-refund policy for ticket purchases. Therefore, it's important to ensure that you are committed to attending the festival before making your ticket purchase.
In summary, ACL Festival offers various ticket options, including General Admission, VIP, and Platinum, to cater to different preferences and budgets. It's recommended to purchase tickets early and stay updated on any special promotions or discounts to secure your spot at this unforgettable music festival.
Activities and Attractions
ACL Festival is more than just a music event; it's a celebration of art, culture, and the creative spirit of Austin. The festival offers a wide array of activities and attractions that enhance the overall experience and provide entertainment beyond the live performances.
One of the main highlights of ACL Festival is the presence of interactive art installations throughout the festival grounds. These installations are designed to engage attendees and create visually stunning experiences. From immersive light displays to large-scale sculptures, these art installations provide a unique and captivating backdrop for festival-goers to explore and enjoy.
In addition to the art installations, ACL Festival features an array of activities that cater to different interests. Festival-goers can participate in interactive workshops, where they can learn various crafts, dance styles, or even join in a drum circle. These activities foster a sense of community and allow attendees to engage with their fellow festival-goers in a fun and educational manner.
ACL Festival also hosts a variety of attractions that cater to food and beverage enthusiasts. From food trucks offering a diverse range of culinary delights to craft beer and cocktail bars, the festival ensures that attendees have plenty of options to satisfy their taste buds. Austin, known for its vibrant food scene, is well-represented at ACL Festival, providing festival-goers with a chance to indulge in local flavors and delicacies.
One of the unique attractions at ACL Festival is the Silent Disco, where attendees can dance the night away wearing wireless headphones. This immersive experience allows festival-goers to choose between different music channels and dance to their favorite tunes while simultaneously enjoying silence and observing others dancing around them.
Another popular attraction at ACL Festival is the Austin Kiddie Limits area. This dedicated space offers a wide range of family-friendly activities, including interactive performances, art projects, and even musical instrument workshops. It's an excellent opportunity for parents to introduce their children to the joys of live music and foster a love for the arts at an early age.
For those seeking a break from the music and activities, Zilker Park itself offers plenty of opportunities to relax and enjoy nature. The park features open green spaces where festival-goers can have picnics, play games, or simply soak up the sun. Additionally, the nearby Lady Bird Lake offers opportunities for kayaking, paddleboarding, or leisurely walks along the waterfront.
Whether you're immersing yourself in art installations, participating in interactive workshops, sampling delicious food and drinks, or simply taking in the beauty of Zilker Park, ACL Festival ensures that there's never a dull moment. The festival's diverse range of activities and attractions add depth and excitement to the overall experience, making it much more than just a music event.
Food and Beverage Options
ACL Festival is not just a feast for the ears, but also a feast for the taste buds. The festival prides itself on offering a wide variety of food and beverage options to cater to different culinary preferences and dietary needs.
One of the highlights of ACL Festival is its eclectic mix of food vendors. From local favorites to popular food trucks, festival-goers can indulge in a diverse range of cuisines, flavors, and dishes. Whether you're craving juicy burgers, mouthwatering tacos, delectable barbecue, or international delicacies, you'll find it all within the festival grounds.
The festival organizers prioritize quality and variety when selecting food vendors, ensuring that there are options available for all dietary requirements. Vegetarian, vegan, and gluten-free options are plentiful, allowing attendees with specific dietary restrictions to enjoy a delicious and satisfying meal.
In addition to the traditional food vendors, ACL Festival often hosts pop-up restaurants or special collaborations with renowned chefs, offering a unique dining experience within the festival. These collaborations showcase the culinary talent of the Austin community and provide festival-goers with a chance to savor extraordinary dishes created exclusively for the event.
ACL Festival also features a wide range of beverage options to keep attendees refreshed and hydrated throughout the day. Aside from the typical soda and bottled water options, the festival offers a selection of craft beer, cocktails, and specialty beverages from local breweries and distilleries.
The festival grounds are dotted with bars and beverage stations where attendees can purchase their favorite drinks or explore new and exciting flavors. From refreshing IPA's to artisanal cocktails, there's a beverage to suit every taste and preference.
It's worth noting that ACL Festival has implemented environmentally-friendly practices when it comes to food and beverage service. The festival encourages the use of reusable water bottles and provides water refill stations throughout the grounds to minimize plastic waste. Additionally, composting and recycling stations are available to ensure proper disposal of food containers and other waste.
ACL Festival is truly a food lover's paradise, offering an extensive array of culinary delights and beverage options. Whether you're craving classic comfort foods, exploring unique flavors, or sipping on craft beverages, you're sure to find something that satisfies your taste buds and enhances your festival experience.
Sustainability Efforts
ACL Festival is committed to minimizing its environmental impact and promoting sustainability. Recognizing the importance of reducing waste and adopting eco-friendly practices, the festival organizers have implemented various initiatives to create a more sustainable event.
One of the key sustainability efforts at ACL Festival is the emphasis on recycling and composting. Throughout the festival grounds, attendees will find conveniently placed recycling and composting stations. These stations are clearly marked and make it easy for festival-goers to properly dispose of their waste. By separating recyclable materials and compostable items, ACL Festival aims to divert a significant amount of waste from going to landfills.
In an effort to encourage attendees to use reusable water bottles, ACL Festival provides multiple water bottle refill stations. These stations make it convenient for attendees to stay hydrated without relying on single-use plastic bottles. By promoting the use of reusable bottles, the festival significantly reduces the amount of plastic waste generated during the event.
ACL Festival also partners with local and regional vendors who share its commitment to sustainability. These vendors are encouraged to use eco-friendly practices, such as using compostable or biodegradable food containers and utensils. By supporting businesses that prioritize sustainable practices, ACL Festival contributes to the larger goal of creating a more sustainable food and beverage industry.
Transportation is another area where ACL Festival promotes sustainability. The festival encourages attendees to use alternative transportation options, such as public transportation, biking, or carpooling. By reducing the number of single-occupancy vehicles, the festival aims to minimize carbon emissions and alleviate traffic congestion around the festival grounds.
In addition, ACL Festival offers incentives for attendees who choose sustainable transportation. For example, those who arrive by bike can take advantage of bike valet services, ensuring the safety of their bikes throughout the festival. This encourages festival-goers to opt for a more eco-friendly mode of transportation.
ACL Festival also prioritizes energy conservation. The festival adopts energy-efficient practices, utilizing LED lighting and employing energy-saving measures in the stages and production areas. By minimizing energy consumption, the festival aims to reduce its carbon footprint and contribute to a more sustainable event.
Furthermore, as part of its commitment to sustainability, ACL Festival actively engages with the community. The festival supports local environmental initiatives and collaborates with organizations focused on sustainability and conservation. By forging these partnerships, ACL Festival aims to raise awareness and inspire attendees to adopt sustainable practices not only during the festival but also in their daily lives.
In summary, sustainability is at the core of ACL Festival's ethos. The festival's dedication to recycling, composting, promoting reusable bottles, prioritizing eco-friendly vendors, encouraging sustainable transportation, and conserving energy demonstrates its commitment to creating a more sustainable event. By incorporating these efforts, ACL Festival serves as a catalyst for positive environmental change within the festival industry and beyond.
Tips for Enjoying ACL Festival
Attending ACL Festival is an exciting and immersive experience. To make the most of your time at the festival, here are some helpful tips to ensure a memorable and enjoyable experience:
Plan your schedule: With multiple stages and a diverse lineup, it's important to plan which artists you want to see in advance. Check the festival schedule and create a personalized itinerary to make sure you don't miss your favorite acts.
Arrive early: ACL Festival is popular, and large crowds are expected. Arriving early will give you ample time to explore the festival grounds, settle in, and find a good spot to enjoy the performances.
Stay hydrated: The Texas heat can be intense, so it's crucial to stay hydrated throughout the day. Bring a reusable water bottle and take advantage of the water refill stations located throughout the festival grounds.
Come prepared: Pack essentials such as sunscreen, a hat, sunglasses, and a small backpack to carry your belongings. Consider bringing a poncho or light rain jacket in case of unexpected showers.
Wear comfortable clothing and shoes: ACL Festival involves a lot of walking and standing, so opt for comfortable clothing and shoes that you can move and dance in. Be prepared for various weather conditions by layering your clothing.
Explore beyond the music: Take the time to explore the interactive art installations, participate in workshops and activities, and indulge in the food and beverage options. ACL Festival offers a diverse range of experiences beyond the music, so be sure to enjoy all the festival has to offer.
Respect the environment and fellow festival-goers: Keep Zilker Park clean by using the recycling and composting stations appropriately. Be mindful of noise levels and respect the space and experience of others around you.
Connect with the community: ACL Festival is a melting pot of music enthusiasts from different backgrounds. Strike up conversations with fellow festival-goers, make new friends, and embrace the sense of community and unity that the festival fosters.
Take breaks and pace yourself: With so much to see and do, it's easy to get caught up in the excitement. Remember to take breaks, rest when needed, and pace yourself to ensure you have the energy to enjoy the entire festival.
Capture the memories: Bring a camera or smartphone to capture the moments that resonate with you. Take photos, record videos, and create lasting memories of your time at ACL Festival.
By following these tips, you'll be well-equipped to make the most of your ACL Festival experience. Embrace the music, immerse yourself in the atmosphere, and create unforgettable memories that will last a lifetime.
Conclusion
ACL Festival is an iconic event that brings together music, art, and a vibrant community in the heart of Austin, Texas. With its rich history, diverse lineup, and immersive experiences, the festival offers an unforgettable and unique experience for music enthusiasts of all ages.
From its humble beginnings as a celebration of the Austin City Limits music program, ACL Festival has grown into one of the most highly anticipated festivals in the United States. It has consistently showcased a mix of legendary acts and emerging talents, allowing attendees to discover new artists and witness unforgettable performances.
The festival's location at Zilker Park provides a breathtaking backdrop for three days of non-stop music, art installations, and activities. The park's natural beauty, coupled with the electric atmosphere of the festival, sets the stage for an incredible celebration of music and creativity.
ACL Festival's commitment to sustainability is commendable. Through initiatives such as recycling, composting, and promoting reusable bottles, the festival aims to minimize its environmental impact and create a more sustainable event. By prioritizing eco-friendly practices, ACL Festival sets an example for other festivals to follow.
To fully enjoy ACL Festival, it's important to plan ahead, embrace the diverse lineup, and take advantage of all the food, art, and activities available. By staying hydrated, being mindful of your surroundings, and connecting with fellow festival-goers, you'll create a memorable experience that goes beyond the music alone.
As the sun sets on ACL Festival and the last notes of music fade into the night, the memories created at this incredible event linger on. From the incredible performances to the sense of community and creativity, ACL Festival leaves a lasting impression that resonates with attendees long after the festival concludes.
So, whether you're a music aficionado, an art enthusiast, or simply looking for a one-of-a-kind experience, ACL Festival is sure to captivate and inspire. Immerse yourself in the world of music, embrace the vibrant atmosphere, and let the magic of ACL Festival sweep you away.